Rosegill developers review plans with local residents
by Tom Chillemi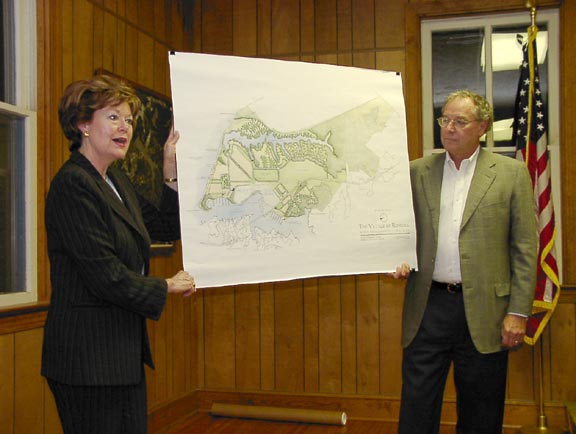 Diane Cox Basheer and Ken Thompson explain preliminary plans for Rosegill during
the Urbanna Town Council meeting on Monday. (Photo by Tom Chillemi)
Developers Diane Cox Basheer and Ken Thompson, who have a contract to purchase Rosegill Plantation's 860 acres, shared their vision for the development of the property during the Urbanna Town Council meeting on Monday.
Diane Cox Communities, of Vienna, and Ken Thompson and Associates Inc., of Woodbridge, have 30-plus years in development in Northern Virginia and Maryland, including building adjacent to a sensitive body of water, the Occoquan Reservoir.
"Very early, that made me attentive to all those kinds fo environmental issues that are important," Thompson told the audience of about 60 local residents Monday night. We've learned to engage our consultants to always be on the forefront with design concepts to address the kinds of issues that relate to the environment?"
Before such things as erosion and sediment control, storm water management and best management practices became law, Thompson said he voluntarily implemented those practices and low density development. 'We were involved in low impact developments five years ago:' he said.
"We recognize the beauty in Rosegill and we have every intention to do what we can to protect the wonderful environment there, not to mention the archeological heritage that is there as well" said Thompson.
Basheer handles the design, community planning and home building phases. She said in the last eight to 10 years the way people want to live has changed. Baby boomers are beginning to think about retirement and more of them want to get out of the bustle and everyday stress of the city."
They are looking to retire to "coastal" areas that are only two or three hours from the rest of the family and where they previously lived.
About three years ago Basheer developed Kingsport of Annapolis and that reinforced her idea that people are looking for retirement places or second homes that are more relaxed, yet close enough that they can visit where they had previously lived.
She spoke of a "neo-traditional land plan" that clusters homes together in the internal area with green space for community use.
Basheer and Thompson are finishing up their largest developments, River Falls on the Occoquan, encompassing 2,900 acres. (See www.dianecoxbasheer.com)
For Rosegill, they envision a 'new urban style" development, which is a "village style residential community:' she said.
Basheer said they want to "create the feeling of community." Unlike a typical platted community with homes spread over a field, they envision homes clustered together, preserving "significant open spaces," and with varied housing types.
Thompson said 35 to 40 percent of the Rosegill development would remain in open space.
Basheer said they hope to place garages at the back of the houses with access through an alleyway, as they did in Farreroft in Fairfax.
"The neo-traditional design is a logical extension of the town of Urbanna' Thompson said.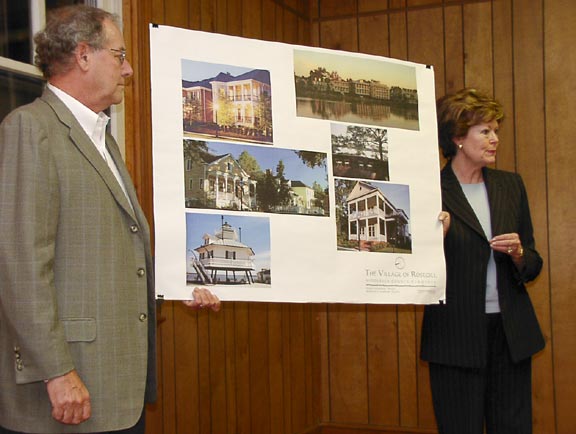 Keeping the view
During the last six or nine months, said Thompson, they have heard issues from Urbanna and Middlesex residents and they are looking for more feedback.
Regarding the view from the curve on Route 227 leading into Urbanna, he said, "The most universal comment that we've heard from everyone was, 'When you come around that curve and you are looking at that water, that absolutely has to stay.' I can assure you that it is our intention to honor that 110 percent.
"We propose that all these fields that are presently being farmed will stay in their existing states:' said Thompson. "We don't envision doing anything in those areas at all."
The airplane runway open space will stay and be "a manicured open space" to be used for festival-type events.
Thompson said Rosegill would be "entirety residential; there will be no commercial use there whatsoever?'
He said the heritage of Rosegill's historic house would be honored and he would consider an historic easement. Thompson said making the mansion accessible to the public would mean making it comply with the American Disabilities Act, which could affect its historic integrity. "We have no plans but to protect it," he said.
The development would encourage walking trails and neighborhood parks, he said, and the waterfront would be for all development residents.
"We don't envision any of the lots running to the water:' said Thompson.
Rosegill has a little over a mile of waterfront on the Rappahannock River and about three-quarters of a mile on Urhanna Creek, in addition to two lakes.
The developers plan community recreation areas with a pool and tennis courts built near the lake that is nearest to the river.
Phased construction
While they don't have a firm land plan, Thotnpson and Basheer said Rosegill would be developed in phases. Construction could start within one or two years and take 10 years to complete. Basheer noted that one phase would be completed before moving into the next phase.
They do not plan to sell bare lots, but instead will build custom houses of Basheer's approved styles. Houses would range from 2,500 to 5,000 square feet. They could not estimate the number of houses that would be built.
Townhouses are not planned, but attached houses are an option, said Basheer.
No golf course is planned and the development would not be a "gated" community.
Roads would be built to state standards and be public.
Basheer said the first phase would be on the west side of Route 227 up the creek from the Newman Bridge and include single-family homes ranging from 2,500 to 3,400 square feet on two levels.
Houses would be nestled in the woods with a community park and a small community pool. 'We don't like taking trees down," said Thompson.
Phase two would be around the lower lake and the third phase would be around the upper lake.
Public water and sewer would serve the development.
They said they have not given a lot of thought to the parcel that extends to Route 33 near Cooks Corner, which is zoned Village Community and could support commercial development.
The total Rosegill property had been advertised for sale at $12 million. The sellers, Alfred and Strother Scott of Richmond, paid $1.1 million for it in 1974.
About 14 months ago, Rosegill was offered as a site for a state park, however, Alfred Scott said at the meeting he has yet to get the first phone call from the state about the property. The state indicated it only had $5 to $7 million to spend on the park.
Background
Basheer said she grew up in Richmond but has family roots in Middlesex. Her mother, Marjory Mercer Cox, still lives at Fishing Bay in Deltaville. Her grandfather, Garland Mercer, operated a funeral home in Urbanna. Her great-grandfather, Captain Russell Parker, was a waterman in Wake.